This is pretty random, but I thought I would share. Recently, I encountered almond cheese. It was almost fat free, high in protein, low in carbs, and even offered a gram of fiber. I love cheese, and I love almond milk, so how could I not like this? I decided to try the cheddar and buy pepper jack on return trip if it was good. Sadly, I did not go back for jack.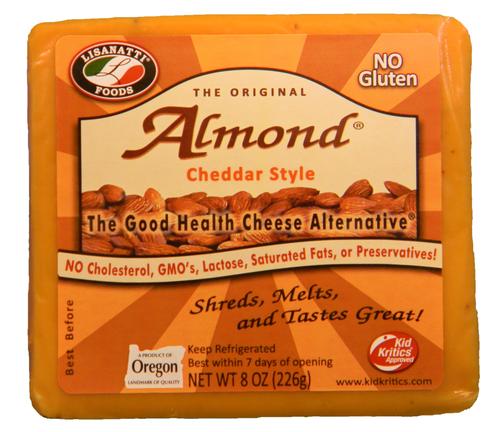 Taste: You can tell it's trying to taste like cheese, but it really just tastes like what society has come to accept as "cheese flavor." It's the same flavor encountered in Easy Mac powder and other excuses for cheese, but much more subtle and with less salt. The taste is about as similar to real cheddar cheese as the taste of a grape Popsicle is to a real grape.
Texture and appearance: They came pretty close, but something still isn't right. For one thing, if you look closely, there are tiny brown specks and larger white spots mingled in with the orangey-yellow you expect from cheddar cheese. It's a little soft, but nowhere near as squishy as Velveeta. It holds up to grating… kind of.
Nutritional value: Compared to regular cheddar cheese, this is a lot better for you. It only has 1 gram of fat and 50 calories per ounce, compared to 9 grams of fat and 110 calories per ounce for the real stuff. But wait, don't they make fat-free cheese that's actually cheese? Yeah, and it tastes better and doesn't have any carbs. This product has three grams of carbs per ounce (one of them is fiber, which I'm okay with, but it loses points for the other two).
Overall: A passable substitute for cheese if you can't/won't eat dairy products. Otherwise, you're better off with Kraft's fat-free shredded cheddar and mozzarella, or something from Cabot's line of 50-75% reduced fat cheeses.